Welcome to the Jersey Sky Devils
We are an RC (Radio Control) aircraft club located in Vineland, NJ. We are a member of the Academy of Model Aeronautics, Charter Club #1765. Our flying field is located at the Vineland-Downstown Airport. Prospective members and spectators are welcome. We fly various types of RC aircraft, including, but not limited to, airplanes (sport, scale, giant scale, pattern, 3D, jets),  helicopters, and multirotors.  We fly both fuel and electric powered models.  The club has regular monthly meetings.  Flight instruction is available. If you are interested in joining the Jersey Sky Devils, click here, or come visit us at the field, or as a guest at one of our meetings.
For more information about the club, click here.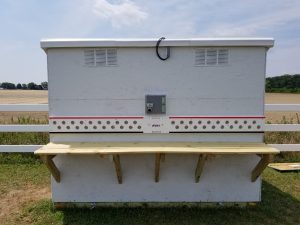 The charging station is complete!  Click here to read about the project.