Student pilots should contact one of the below instructors to schedule a training time.  All training is done using a Buddy Box until the student is approved for solo flight.
Flight Instructors: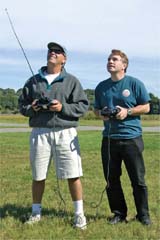 Bob Austino  (Head Flight Instructor)
Bert Armstrong
Bruce Cheeseman
Joe Curcio
Brian LaBree
Ed Langowski
Frank Mackie
Arnold Solof
Test for Fixed Wing Solo Flight Certification at Our Field
Horizontal Figures of Eight  (both left and right)
Three loops in a row  (from both left & right)
Immelmann turn  (both left & right)
One roll (both left & right)
Trainer Plane List
Test For Flight Instructor Certification
Using a buddy box, repeat the test for solo flight certification.
The tester using the master control on the buddy box will simulate  a novice student pilot by destabilizing the flight randomly and suddenly 4 times during the above routine test maneuvers.  The testee must demonstrate the ability to consistently and  rapidly recover control of the plane.
If part #2 is completed successfully, it will be repeated for 4 more random destabilizations with the testee using the buddy box master control.
All of parts 1, 2, and 3 must be completed successfully to pass the test.