Ordering Clothing:
Club survey results:
When ordering clothing with custom printing like our club logo, you should provide vector graphics files of the logo to the vendor.
Club Logo:
Bitmapped (Raster) Graphics Files  (a picture created by placement of pixels/dots)
Vector Graphics Files  (a picture created by mathematical formulas). These don't become pixelated and don't lose clarity when resized.
Clothing:
Shirts

T-shirt

There is a vendor in the hallway of the Cumberland Mall that does custom T-shirt printing.  He charges $20 for a medium sized printing and $30 for large sized printing.  It is less if you provide your own shirt and he does give quantity discounts.  Just provide him the vector graphics files.

Sweatshirts
Jackets
Hats
Iron-on Patches.

We should consider placing an order for these.  We would give the vendor our logo vector graphics files and they would digitize the embroidery file to the specified size creating an iron-on patch.  The patch could be ironed on, sewn, or both.  It could be placed on any type of clothing and in any position desired.  When ordered in quantity, the price per patch drops significantly.  Here is a sampling of pricing from one vendor.
Embroidery Files
1 X 3 inches embroidery files are available for download.  You could use these if you have a home embroidery machine or give them to a vendor for an order.

Here is a T-shirt that was embroidered using these files.  Click on it to enlarge: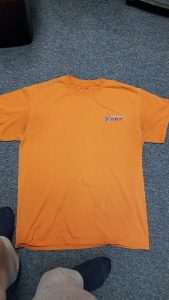 Download "Inkscape".  It is a good vector graphics editor which is free.  You could modify the logo changing colors, etc. to match better with different color clothing.  Or, you could ask your vendor to do it if needed.
Matt Ott reported that the club previously had T-shirts printed for $13 per shirt at Craig's Cosmic Tees.
Embroidery of Individual Items
Bill Froeder provided the information below about where he got his custom embroidering done:
Here is the address info for the place Steve and I got the hats and jackets from.
In Stitches Monogramming
phone: 856-232-9292
email: institches230@yahoo.com
The person to talk to who is the owner is Denise Sandes
The address says Sewell but it is actually considered Deptford there.
The 18 minute drive on the map is from Mullica Hill.
Directions from RT55